The Hunger Games – Book vs. Film Review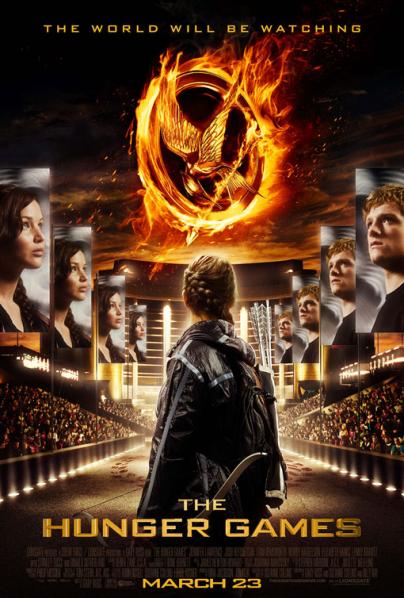 The first in a trilogy of novels adapted from Suzanne Collins' best-selling series, The Hunger Games is set in a dystopian future where, in order to maintain peace in the 12 districts of Panem, 24 young representatives are forced to compete in a televised game each year where they must to fight to the death until only one remains. Directed by Gary Ross, the film centers on the character of Katniss Everdeen (Jennifer Lawrence) a young woman living in the poorest of districts who, when her sister Primrose (Willow Shields) is chosen to compete in the games, volunteers herself as tribute alongside fellow district competitor Peeta (Josh Hutcherson).
Pitted against the richest of tributes who have been training all their lives, Katniss is thrown into the colourful world of the rich in interviews with TV host Caeser Flickerman (Stanley Tucci), stylist Cinna (Lenny Kravitz), and Game escort Effie Trinket (Elizabeth Banks). But with only the mentoring skills of the drunk and bitter Haymitch (Woody Harrelson) to prepare her, does Katniss even stand a chance of returning home to her family? And how will seducing her district competitor in order to attract sponsors affect the harboring romance she has with Gale (Liam Hemsworth) back at home?
From very early on, The Hunger Games has been constantly compared to many films, the biggest of these being the Harry Potter and Twilight franchises, as well as the Japanese action thriller Battle Royale. I think it's impossible to deny any comparisons, and even more so to avoid mentioning them, but at the same time I don't see why they are a means to judge the film either before or after seeing it. Of course the film is verging on the same lines as the classic Battle Royale, which is also set in a dystopian future where the government capture a class of students who they force to kill each other, but name a film that doesn't pull its influence from somewhere else?
The reason that The Hunger Games succeeds in differentiating itself from this comparison is because it's aimed at a completely different - and much bigger - audience, which it does by portraying a dystopian future where there is still hope and something to strive for. Battle Royale shows the more sinister and pessimistic side of such a world, killing people for pure entertainment, but what's so good about The Hunger Games is that Ross manages to create the world of Panem so successfully that is believable enough to provoke an emotional response to both the setting and the people within it. You can feel the desperation and hatred towards the government for what they are doing, and because of this Katniss becomes a heroine. Through her character, we now have someone to relate and emphasise with, which is a bonus in itself compared to Twilight's Bella Swan.
What Ross captures on-screen is almost exactly how I had pictured the story when reading it, which for me is the best part about his adaptation (of course!). Occasionally missing out explanations or further details that are sometimes needed, though this can be said for most adaptations and is why it's worth reading the book, the film does an excellent job of filling in the audience with most of what Collins was trying to create through her own words.
Because of Ross' brilliant portrayal of this dystopian setting, he also manages to capture the darkness of the situation, whilst at the same time not making too 'scary' for the younger audience. With its premise of death and murder, it was inevitable that there was going to be a lot of violence, and it would have been extremely hard for Ross to dance around these subjects. Ultimately given a 12A rating after having seven seconds cut, we have to wonder what scenes were removed to make it acceptable for this younger audience. One technique that was used to help avoid this extreme violence was a shaky camera, which overshadowed any killings, taking away the emphasis of anything too serious and instead focusing on the confrontation itself that was going on…somewhere.
Of course, whilst this made the film easier to watch for the younger audience, for the rest of us it did occasionally ruin certain scenes. But even without gore and the visual image of spears going through people, the film doesn't flower the themes of death. The scene with Rue (Amandla Stenberg), especially, was quite a big part of the book that could not have been easily ignored. Whilst at times a bit of blood would have emphasised these scenes even more, it wasn't a complete negative on the film as the violence was still enough to have an impact.
As for any comparisons to the Harry Potter and Twilight franchises, the only way that The Hunger Games can relate to either of these series of film adaptations is that it will be just as big of a franchise as they have already succeeded to become. Only verging on the inclusion of any mythological beings or creatures (I've only read the first book at this point, and the film doesn't draw on the beasts with human eyes), The Hunger Games has a sense of reality to it, and for that reason it emanates a sense of relatability that were not be achieved with the previously mentioned series of films that it is being compared to.
The Hunger Games managed to remove itself from the young adult genre, not only because the film derives a sense of inspiration through the character of Katniss, but because the tributes are fighting for a better life. It is this maturity and socially relevant themes of politics and government actions that sets it aside from the franchises that find it hard to escape its teenage audience. And for that reason I must ask why we are not comparing it to George Orwell's 1984. It's not a literary classic, let's not go that far, but in reading Collins' novel I was able to imagine a dystopian and totalitarian regime just in the same way that Orwell's novel managed to capture. This sophistication is really well expressed in the film, and is definitely worth thinking about.
As for the cast of the film, of course it is all about Jennifer Lawrence. Not only did she fit into the role perfectly, but she played the character almost flawlessly and held a strong performance throughout. Helped by the fact that her character is one of inspiration, Lawrence is almost indefinitely going to do well from this. But whilst she was the star of the show, the film held many other great performances too. One of my personal favourites was Stanley Tucci's Flickerman, who, with his shiny white grin and bright blue hair, was just what the role called for. Provoking laughter and cheers from the audience of his TV show, he did just the same with the audience of the cinemas too. And let's not forget Woody Harrelson and Elizabeth Banks, too, who were both great additions to the cast and again suited their characters superbly.
Overall, The Hunger Games is a brilliant adaptation of the book. Not missing out too much of what the book details, the one thing I felt was quite hard to express in the film was the romantic connection between Katniss and Peeta. Whilst some of the audience may have felt that their relationship was a genuine one, the book puts it very differently. Katniss' actions were, for the most of it, for the cameras, which in the book Peeta eventually realises. With Katniss narrating the book, we are able to understand this better. Whilst the film picks up most of what was left unsaid in Collins' novel, the emphasis on Katniss' thoughts of Gale wasn't easily expressed on-screen.
Something else I feel worth briefly mentioning that the film missed out was that the wild beasts at the end of the film were supposed to be mutations of the dead tributes. Whilst not making a major different to the film, this would have further shown how far the government were willing to go, I think, and would have given a darker twist to the end of the film, which instead ended quite abruptly and almost on a cliché note.
What I did like about the end, however, was that the film very slightly went into the second book. From reading the first book we are left to guess what will happen next, knowing that Katniss must be punished somehow to fill another two books, but the film makes it certain that President Snow (played by Donald Sutherland) is determined to retain his power and that he isn't going to let Katniss' actions slip. This both tied the film up brilliantly and also made it clear that more is to come that we can look forward to.
Despite the only one major flaw of a shaky camera, The Hunger Games is brilliant from start to end, and I really would recommend it to everybody. But if there's only one thing that we can all agree on, it's that Gary Ross knows how to adapt a novel onto the big screen. Now can we stop talking about Battle Royale and love it for what it is?